Testimonials
Hi Steven!
Between you and your carpet cleaning referral, Kevin Hutchins, our carpet in the bedroom looks great!
Thanks again.
Jack & Deb Orsinger
Steve,
I just wanted to let you know how much I appreciate your quick response and professionalism in helping me get flooring replaced. You have installed lots of carpet and vinyl for me and my family and for many of my clients over the years. I know that I can always trust you and have never had a "re-call" for substandard work.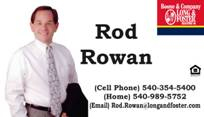 Keep up the good work.
Thanks,
Rod Rowan, Realtor
Long & Foster
We have been doing business with Steve Durrance Carpets for about 15 years, and in that time he has proven to be both professional and trustworthy. The quality of his workmanship is excellent and I would recommend him for any carpeting needs.
Andrew Cohen
President
Blue Ridge Mountain Leather
My wife and I could not be more pleased with the carpet you installed in our basement. Everything from the installation on the stairs, to the attention to detail at the seams; it was all perfect! I would recommend Steve Durrance to install any of your flooring needs not only for his immaculate workmanship, but also for his friendly and professional service.
Thanks again Steve,
Chris & Suzanne Lothes
June 22, 2009
Dear Steven,
A little note of "thanks" for the beautiful carpet you and your selected staff installed in May 2009 in my new home in Botetourt County. You were among several with whom I quoted this job, which included upstairs, guest bedrooms and a very large living area/office downstairs. You were the only carpet vendor representative who, up front, said the large living area downstairs needed 15 ft. carpet to allow for less seams and a much more acceptable look.
You were awarded this job because of your diligence in response to my new home's needs. The scope of this job required attention to so many factors which you totally met! I am very happy to be a reference for you for future jobs — you and your future clients are most welcomed to see your superb work in my new home.
Thank You,
Susan Kidd